カリフォルニアスタイルの白和え
Japanese Siroae: Vegetables tossed in tofu pure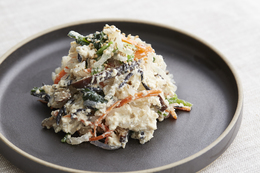 Shirataki Noodle Salad with Tofu Puree
カリフォルニアスタイルの白和え
This simple and healthy salad combines low-calorie shirataki noodles and vegetables with shira-ae, a classic Japanese dressing made with pureed tofu. You can try shira-ae on any kind of vegetables, but shirataki noodles add great texture.
アメリカでも人気上昇中のしらたきとカリフォルニアフルーツを加えたヘルシーな白和え。
Ingredients
Makes 4 small servings
1 package shirataki noodles
しらたき
½ cup blanched spinach
ほうれん草 半束
½ cup thinly sliced carrot
人参一本千切り
½ cup rehydrated hijiki
ひじき 水でもどす。
2 whole dried shiitake mushrooms
乾燥しいたけ2個

1oz raisin
カリフォルニアレーズン 30g

1oz walunts
くるみ 30g

Mentsuyu reduction:
2 tablespoons mentsuyu
めんつゆ 大さじ2
1 tablespoon water
水大さじ1
2 tablespoons mirin
みりん 大さじ2
1/2 tablespoon sugar
砂糖小さじ0・5
Shira-ae:
12 oz firm tofu
豆腐一丁
2 tablespoons sesame paste
白ごま大さじ2
2 teaspoons olive oil
オリーブオイル小さじ2
2 tablespoons sugar
砂糖大s時2
1 teaspoon salt
塩小さじ1
½ teaspoon grated garlic
にんにくすりおろし 小さじ0.5
Directions
Total time: 40 minutes
Active cooking time: 10 minutes
1. Cut shirataki noodles into 6 pieces of equal length. Then, blanch shirataki in hot water for 5 minutes. Rinse under cold water and drain.
2. Rehydrate dried shiitake in 1 ¾ cups water for 20 minutes.
3. Put tofu in a colander and place a weight such as a bowl filled with water on top of the tofu for 30 minutes to remove excess water.
4. Remove shitake from water and reserve 1tablespoon of water. Slice shitake and combine with mentsuyu sauce and reserved shitake water and cook on medium heat till cooking liquid is reduced to 1oz.
5. In a food processor combine ingredients for shira-ae and add mentsuyu reduction. Puree finely.
6. Combine with remaining ingredients, mixing to coat well, and season to taste.